The Ghan expedition – exploring Australia's great 'in-between' | Travel
In the boundless island continent of Australia, too often visitors and citizens fly right over the top and out of the country rather than seeing what's in the middle. Because of the vast distances of unpopulated areas, Australians – and the eight million tourists who visit each year – mainly travel the country by aeroplane. We hop from capital city to tourist destination only looking out plane windows to view the barren land beneath. But there's something to be said for seeing the in-between.

That's what makes the Ghan Expedition so special. The 2,979km train journey allows its guests to see Australia unadorned. The Ghan Expedition is a three-night, four-day journey, starting in Darwin and stopping in Katherine, Alice Springs and Coober Pedy, before arriving in Adelaide. At every stop, a number of off-board excursions are offered to passengers. Most are included in the cost of the ticket, while some – such as scenic flights and helicopter rides – are optional extras.
There are two classes on The Ghan, gold and platinum. Gold class includes two single bunks and an ensuite bathroom with a picture window out one side of the train. Platinum class features a double bed and window views out of both sides of the carriage. I travelled in gold class and was impressed by the high level of comfort of the cabin. Space is tight but neatly used. The bed linen is hotel quality. It is folded back and chocolates are left on your pillow each night.
The Ghan is a slick operation. Operator Great Southern Rail, the same company that runs the Indian Pacific Railway, has learned how to make its passengers feel special. Nice little touches – such as the Appelles Apothecary toiletry range, made from Australian native ingredients and sourced sustainably – round out an excellent menu, great logistics and a clever offering of excursions to make this trip value for money.
It's not cheap (the gold class twin cabin costs $3,299 per person) but if you don't have a lot of time, it's a good way to see the centre of Australia and get a taste of Indigenous culture. It's an amuse-bouche, but a splendid one.
People of all ages, classes, backgrounds and nationalities hop aboard this train. Most passengers are retirees, but younger couples are attracted by the increasing number of active off-train excursions, and the impressive food and wine menu. I met couples from Austria, UK and US, and many Australians. I met one couple celebrating their 40th wedding anniversary and another celebrating a 40th birthday.
Brits Reg and Val Snell were on their 14th trip to Australia when I met them onboard. "Each trip we try to do something different," Val told me. While Reg and Val had already been to Uluru and Alice Springs, the numerous excursions available meant they were able to see new sights at every stop.
Onboard the train, guests immediately gravitate to their closest lounge car. No sooner had we had a coffee, followed by a sparkling wine, than we were beckoned off to the Queen Adelaide Restaurant – one of nine restaurant carriages on the Ghan – for lunch. The restaurant is the stuff of romance novels: smart four-seater booths are set with starched white linen and separated with cut-glass frames. Each booth has a full picture window: this is dining with a view unlike any other.
I chose the buffalo curry for my lunch, which had a lovely depth of flavour with a punch of spice but not too hot. In retrospect, the tomato, sweet potato and beetroot tart would have been a lighter, smarter option given we were about to get off into the searing afternoon heat for a trip to the Nitmiluk Gorge. And again, the ice-cream selection would probably have been a better option for dessert, but how could I resist the mango and lemon myrtle cheesecake?
In Katherine, our first stop, I chose the gorge cruise as my excursion. There was also an option for a cruise to see ancient Indigenous rock art, a visit to a cattle station for those who had seen the gorge before, or a helicopter or fixed-wing plane flight over the gorge.
Nitmiluk Gorge (also known as Katherine Gorge) is a natural wonder. Nitmiluk means cicada country in the local Jawoyn Indigenous language and my memory of the trip will forever be set to the soundtrack of cicadas. The gorge was formed by an earthquake, but the Jawoyn story of Bulan, the rainbow serpent, carving a path through the rock is much more interesting.
The imposing sandstone cliff faces of the gorge are extraordinary, and their orange, yellow and brown reflections on the crisp, still water remind you of your small place in the world as you cruise down the canyon between them. While flying around Uluru on day two was obviously both huge (the largest monolith in the world) and hugely impressive, the gorge cruise was my favourite off-board excursion of the trip. Maybe it has something to do with expectations, but I found the calm cruise between the imposing cliffs, along with the stories of the Jawoyn people, most enjoyable and eye-opening.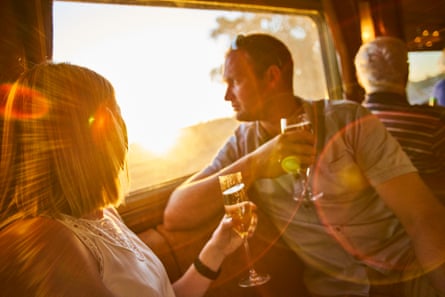 Then an evening surprise turned out to be the highlight of day two. We were promised an outback barbecue under the stars at Telegraph Station in Alice Springs, where you spend most of day two. Feeling tired after the flight to Uluru, and a rather abbreviated tour and lunch at the base, I was not exactly excited about a late night spent outdoors.
But after I had a hot shower (the ensuite showers have great pressure and a plentiful supply of hot water) had washed away all the red dirt that had stuck to me at Uluru, we caught a bus to Telegraph Station and I was greeted with sparkling wine and some delightful canapes, including pork belly, cured kangaroo with bush-spiced apple chutney and a lemon myrtle-infused house-smoked salmon fillet served under a majestic blue gum tree. Tired? Not me.
After a camel ride, a look around the station and more sparkling wine, the sumptuous barbecued thousand guineas tenderloin was served with jacket potato, garden salad and roast vegetables. The St Hallett Garden of Eden shiraz was the ideal match for this quintessential Aussie barbie. And just as it became dark enough to appreciate the blanket of stars we were bathed in, came the surprise – an astronomy show.
Later, a band appeared and young and old joined on the dance floor. The band played so many encores that eventually train staff had to intervene to force the dancers back on to the bus so the train could depart on time. So much for an early night. Back on the train, we danced in the lounge car as the drinks continued to be poured.
Kathy Lawrence, who was on the Ghan with her husband to celebrate his 40th birthday, told me that the evening was one of the highlights of the three-week trip that had taken them to Darwin, Uluru, the Tiwi Islands and the Cobourg Peninsula. "The astronomer and the live music made it a really good night," she said.
Day three took us to Coober Pedy, an outback town as famous for its underground homes as its opal mines. Coober Pedy is something you should see once, but once will probably do. It's a harsh town, hot and dry, and bleeding stories of fortunes won and lost. "People come here to hide," a staff member told me, and it was not hard to believe. No one would come looking here – even the wind turbine looked sad.
All the passengers I spoke to were fascinated by the place, though. The temperate underground homes and churches are unique, and the opals exquisite – there was plenty of shopping going on. A Greek lunch of marinated octopus, souvlaki and salad in an underground mine was lovely, but the highlight of the day was a drive out to the Kanku-Breakaways Conservation Park to watch the sun set over the glorious, multicoloured hills and surrounding desert, washed down with a sparkling wine, of course. ("No more alcohol," I heard one passenger groan – but with all food and alcohol included in the ticket price, there was not much complaining.)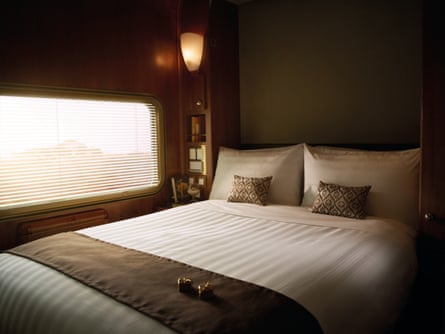 Back at the train, we had some time before we had to board once more, which granted me the luxury of checking out the engines. With 295 guests onboard and 50 staff, the Ghan has two locomotives with diesel electric engines that weigh 132 tonnes each and have 4,400 horsepower. On the flat track of the Ghan, the second locomotive is only for backup, while on the Indian Pacific, it is used to help get up hills. At 1,800m long, it is as long as a train gets, Kingsley Schupelius, one of the drivers, tells me. With the beautiful scenery, he loves the job, which is fortunate because he's been doing it for 36 years. But even that level of experience can't stop you from hitting the odd animal.
"You see a lot of wildlife," he tells me. It's mainly kangaroos and camels that get hit, which seems a shame since the trip is named after the cameleers who came to Australia with their camels from 1839 to help carry goods for explorers venturing inland. (The cameleers were believed to be from Afghanistan and nicknamed "Ghans" by the locals, although they hailed from all over central and middle-eastern Asia.) "You know, night-time, you flash your lights, blow your horn, but you can't [miss]," Kingsley says. "It's dark and there are bushes around."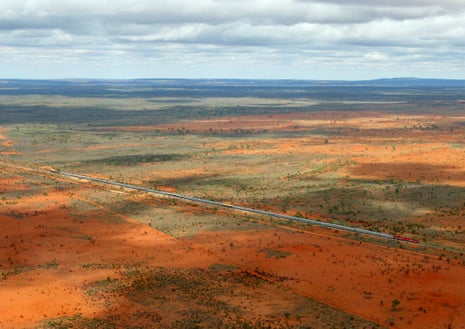 There's a sombre mood in the lounge car that night, and not only because I've re-told the driver's story of kangaroos and camels getting stuck underneath the train. We've become a little pack, those of us who share dinner time and end up back in the lounge afterwards. Some people I've been on several excursions with. We've seen so much, we've explored the red centre and gazed at the stars, we've danced and sung and watched – awe-struck – this beautiful country, which no longer feels so barren. It will be hard to say goodbye the next day, but the memories of the in-between will last a lifetime.
Gabrielle Jackson travelled as a guest of Great Southern Rail.
2017/18 Ghan Expedition prices are:
Platinum Service: $5,239pp
Gold Twin Service: $3,499 pp
Gold Single Service: $3,139pp
All food, drink and most excursions are included. Advance purchase discounts available for bookings made six months in advance.
The 2017 Ghan Expedition season runs from 3 May to 25 October 2017. All southbound journeys are four-day/three-night Ghan Expedition journeys. All northbound services year-round are standard Ghan journeys, which are three days/two nights. Outside of Expedition season, the southbound services also operate on the standard three-day/two-night itinerary. The Ghan departs Adelaide every Sunday and Darwin every Wednesday.