Last weekend, one of the biggest swells in years hit the East Coast of Australia. The Sydney area saw some especially crazy waves. Along with photo/video highlights from various regions, longtime Aussie surf scribe Nick Carroll offers his insights to the event below — as well as a first person account of an extra large session he shared with his brother (and two-time world champ) Tom.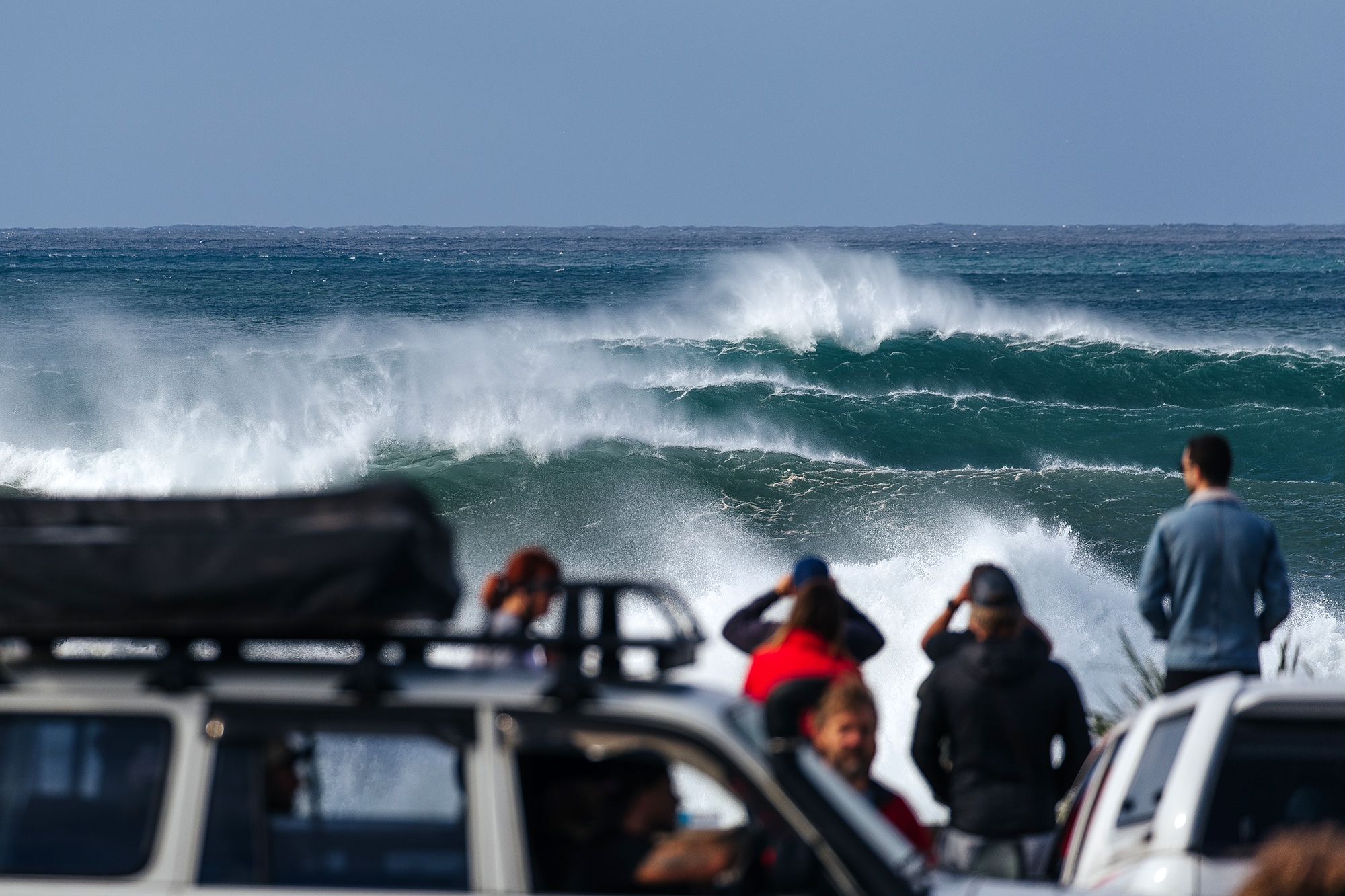 I love it when the weather changes. A big shift, like the one that just ran its claws up and down the East Coast of Australia, feels like it's telling you something. This one felt like it shook us all out of the lockdown daze. "Wake the f++k up!" it said. "Get out there and get smashed!"
Victoria had been throbbing, and the Goldie and the North Coast of NSW were already on the way to an all-time May, but round here in Sydney, we'd been trapped in an endless Indian Summer. Warm, still, and semi-flat. Swells came in straight and lazy, the beaches were broad and thick. Days blurred into days. "It's sooo nice!" people kept saying. It's wrong, I kept thinking, 'where's the wind?'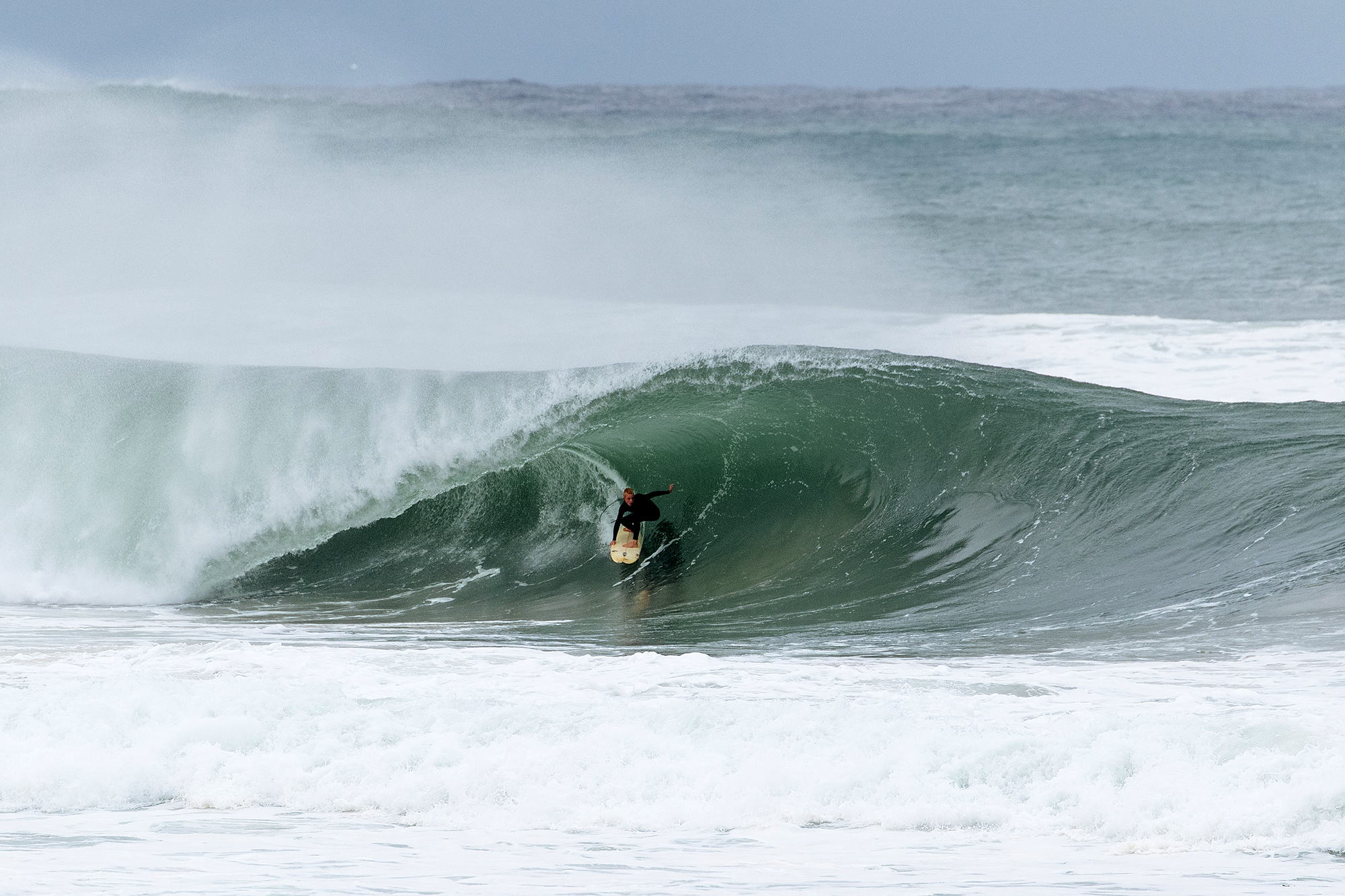 There wasn't any.
Then there was.
Last Thursday the air turned cold and the sky was a faded grey, a snow sky. On Friday morning, the swell jumped eight feet in four hours.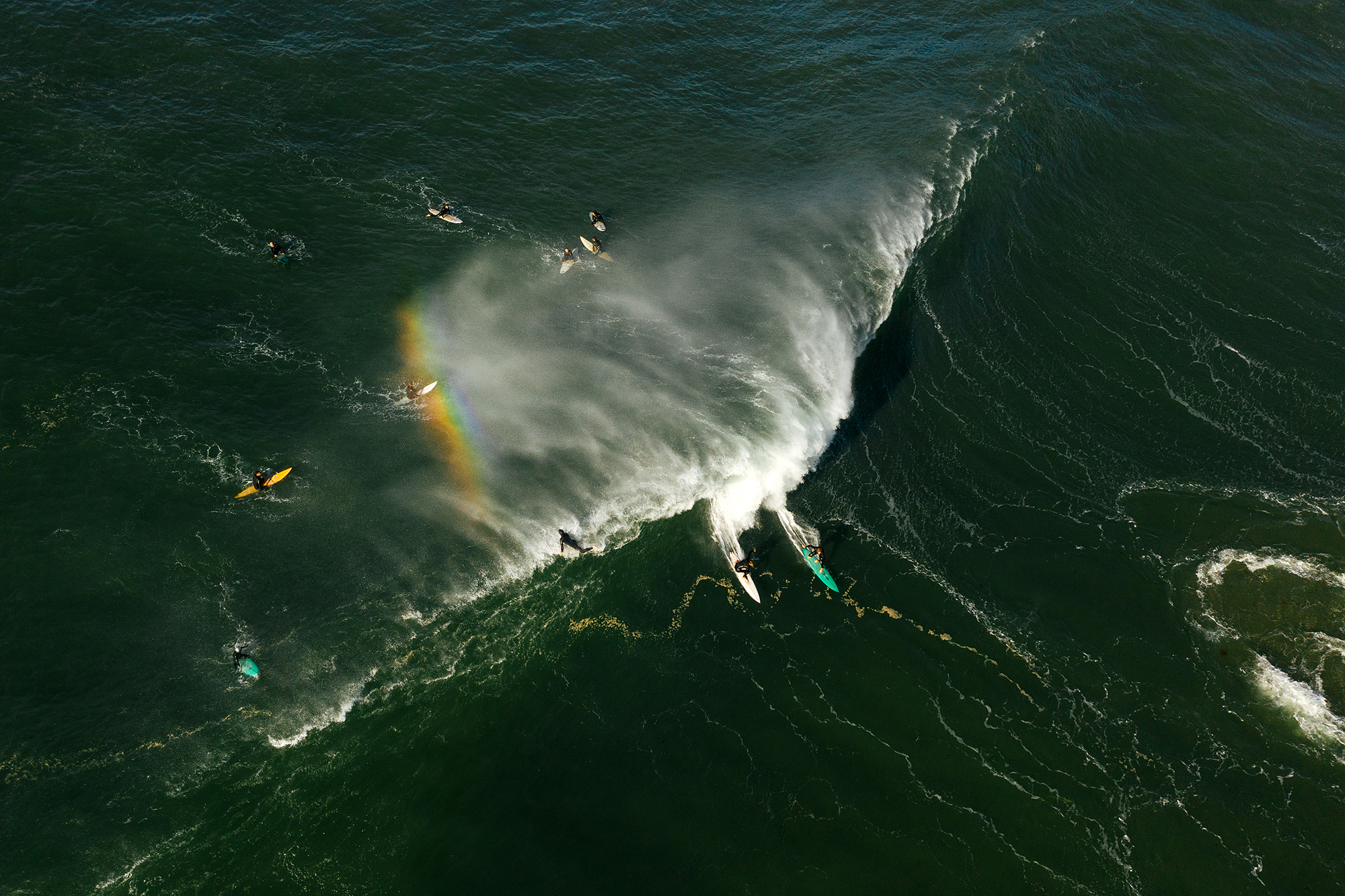 That was the day Kelly surfed Little Avalon. The news swept the northern beaches: "Kelly Slater's out LA!" On almost its first real day back, Barrenjoey High School was pretty much evicted, as the student body bolted up to the headland to watch. I think they then got an unintended lesson in media. The TV news that night led with "World Champ Smashed by Sydney Surf!" And yeah, Kelly was smashed — by a single wave, for about 10 seconds, plus a few minutes while he retrieved what was left of his board from the South Av rock pool.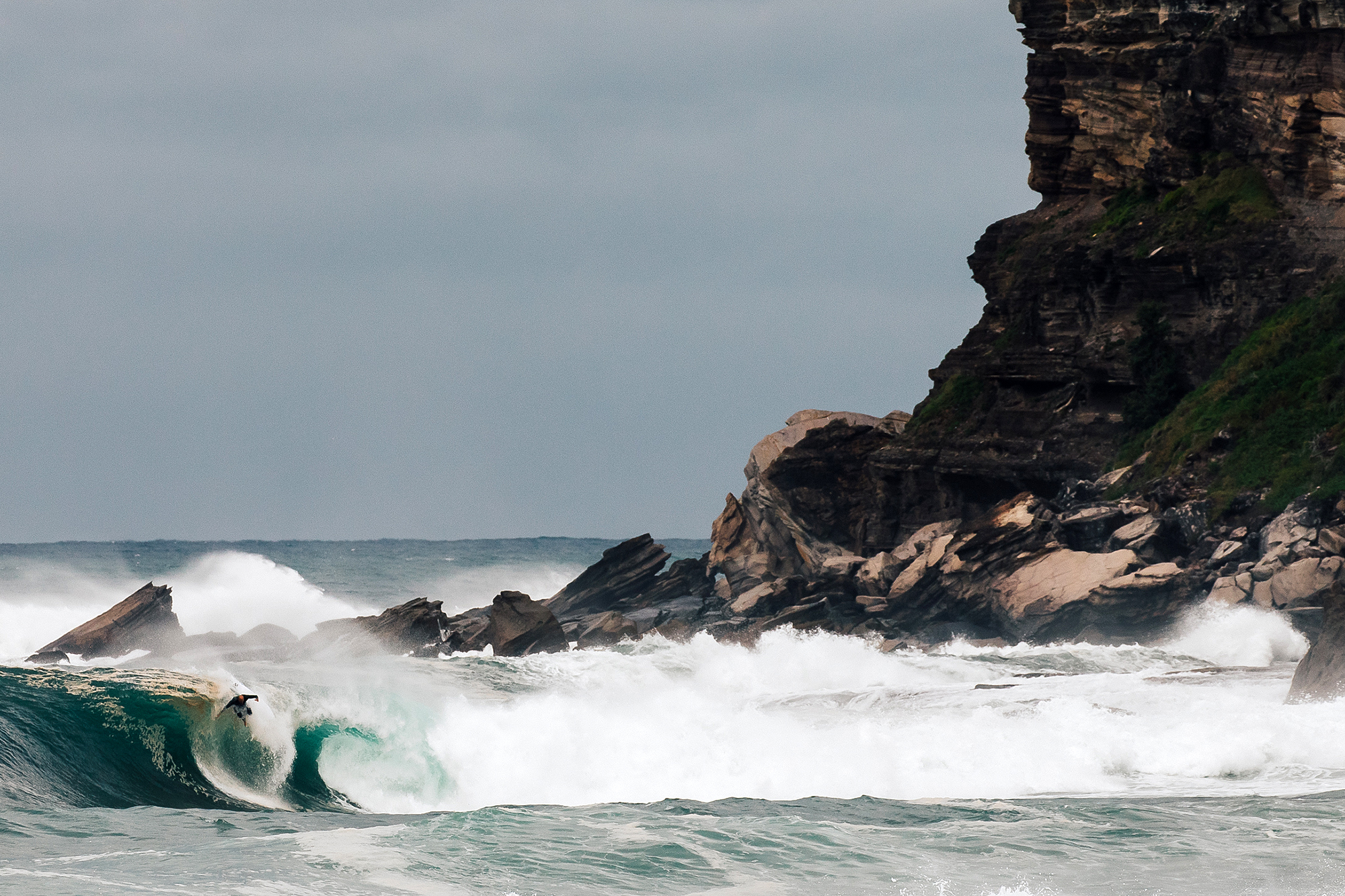 For the other two hours or so, he turned that surf zone inside out with the kind of surfing you expect from an 11-time world champ but rarely see for real, a display an old mate of mine called "majestic". If you were a spectator, I reckon it might have been Slater 1, TV news 0.
Kelly is crazy famous, but he's only one surfer. Every other committed soul along 600km of coastline was scratching out their favorite step-ups and abandoning any other weekend plans they'd made.
Friday was good, but it wasn't the Day. Saturday was the Day. Sunny, clean SW winds, and 10-12' plus of the sort of surf Sydney should be renowned for, but isn't, because it almost never happens.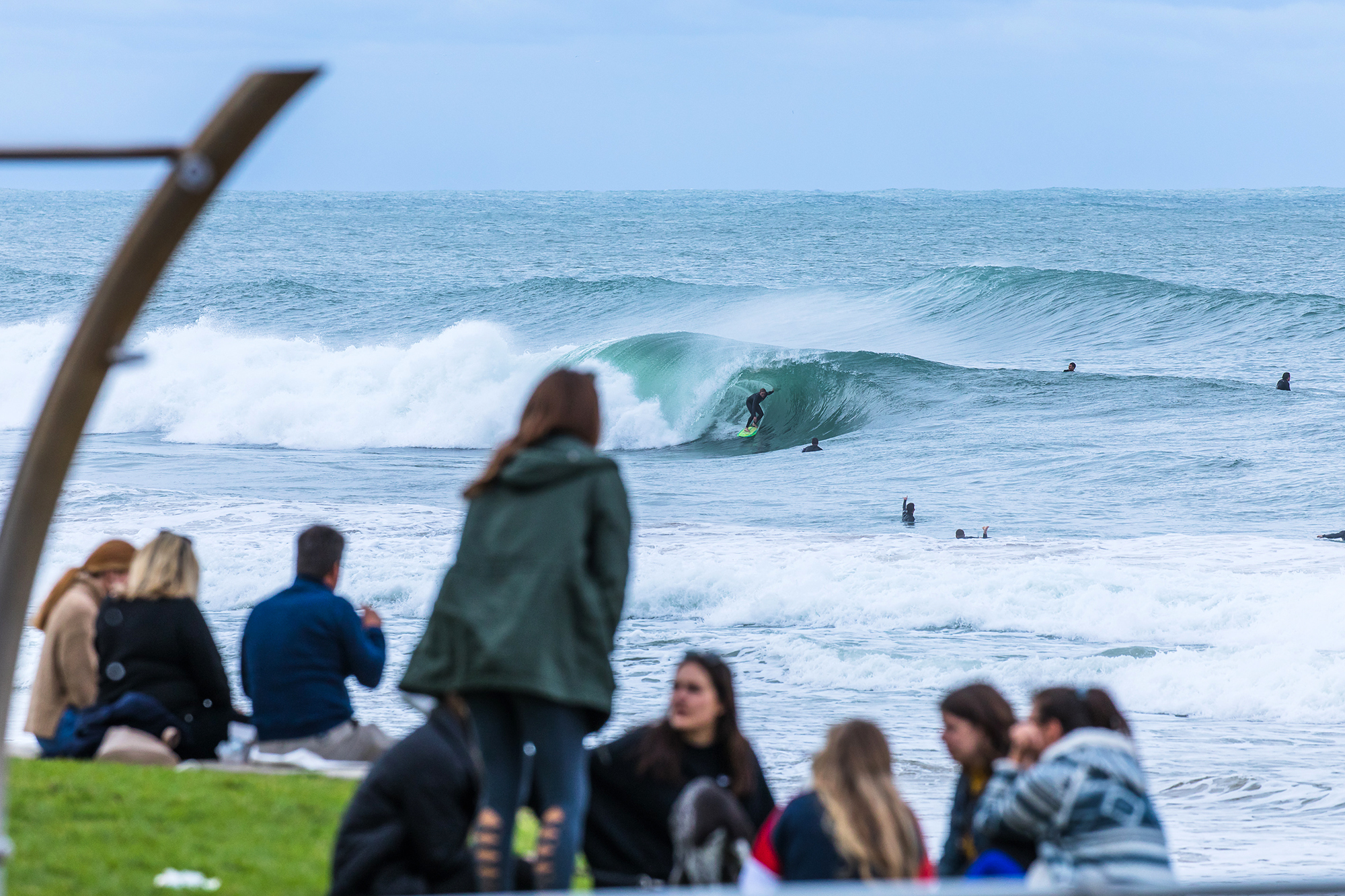 Armed with superboards and a jetski, Tom and I went wandering. It took us nearly two hours to get in the water. We just kept stopping and looking. For a while we hung out up above Turimetta and watched Northy Bombie, wondering if maybe it was the spot. A couple of tow teams and six or seven paddlers were patiently waiting for the bombs. From our vantage point we could see all the way out to Weirdo's bombie, maybe fives kilometers away off the nor-east tip of Long Reef. Every now and then a massive magnified set, 20 feet or more, would blow up off Weirdo's, and a few minutes later, the same set would find a line onto Northy. The crew would spring into action, trying to hunt these big pluming beautiful waves, but there didn't seem like many of those waves.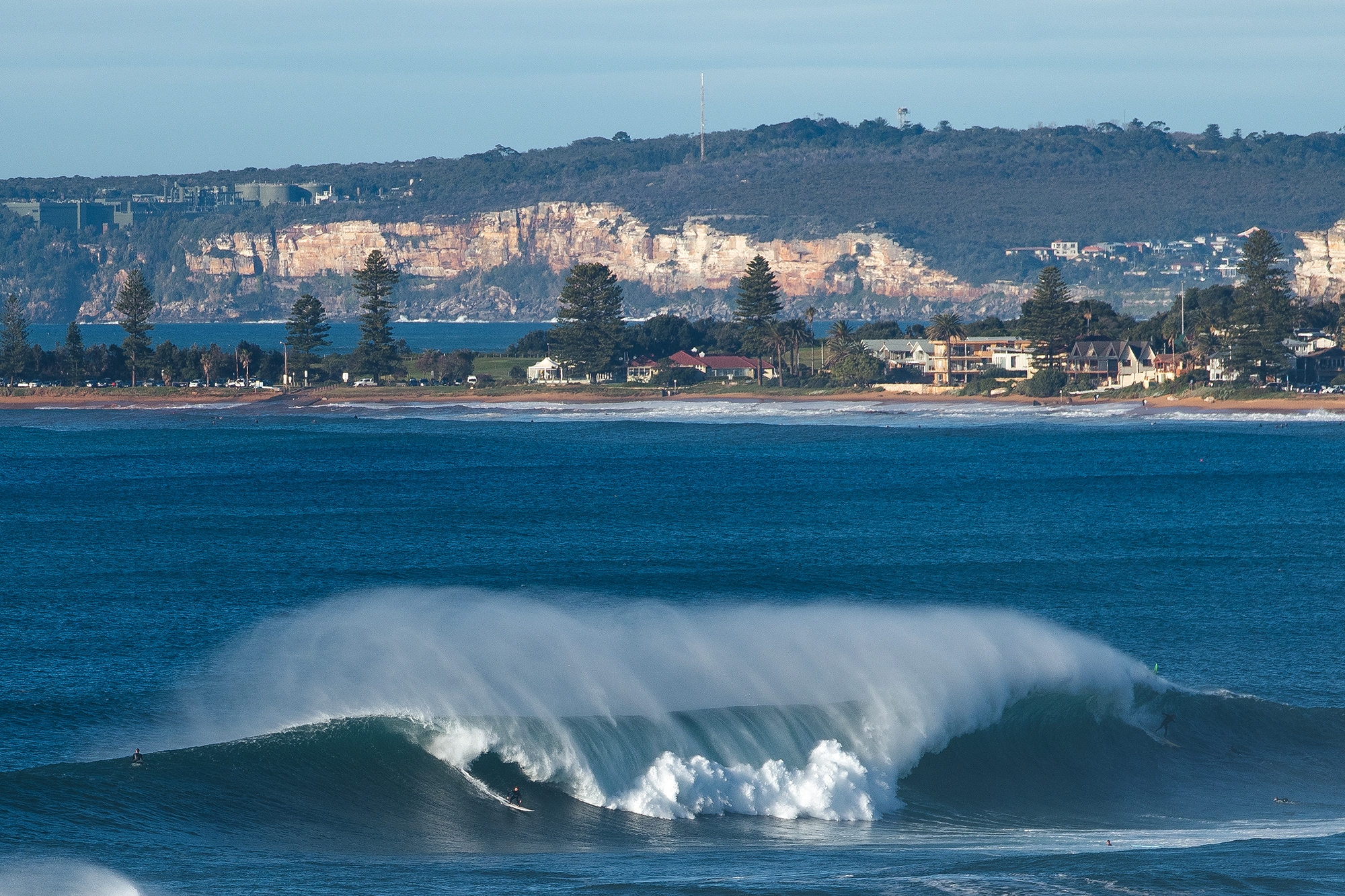 We thought, it's theirs, let's not get in the way of it, and ended up at the German Bank.
Why is it called the German Bank? I dunno. I googled it just now, and found "The complete guide to German banks for ex-pats", and "Which German bank is best?", but nothing about a finger reef off Longy that holds 20 feet of south swell.
Matt "Werris" Grainger and his epic tow buddy Captain basically own this joint, and when we checked it, they were buzzing around, yanking into things and clearly having way too much fun.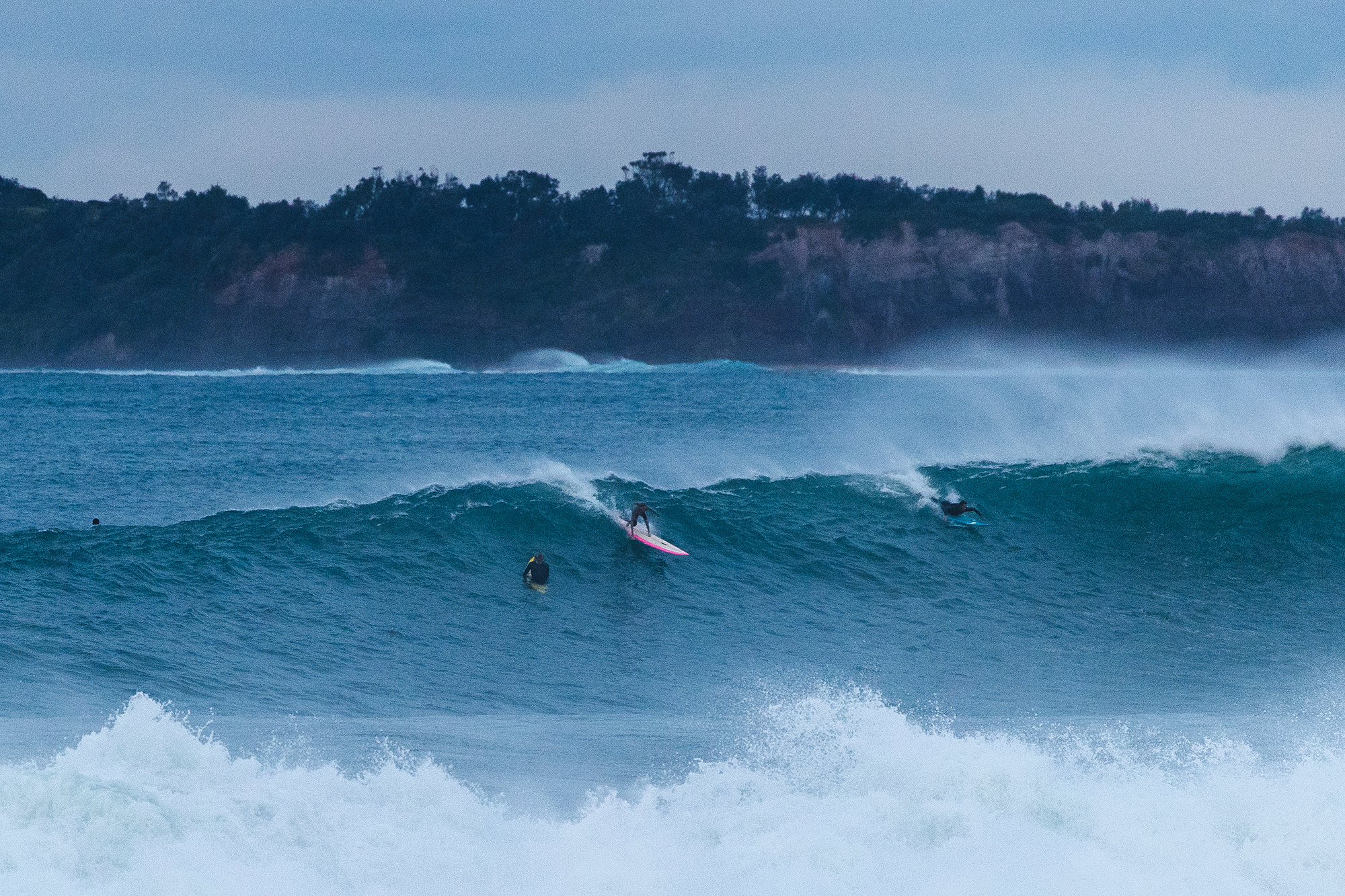 Tom and I got out the superboards. Tom had a 9'4" Rawson/Max Stewart combo piece with a huuuuge stringer. I had a 9'8" Christenson with a bit less stringer but a lot scarier general presence. It's yellow, but a scary yellow, if there is such a thing. Really, we were slightly over-gunned, but when do you get to ride things like this in Sydney?
We jumped in a bit north of the German and paddled at a quick angle across a thin piece of reef and into a rip that sucked us out a couple of hundred yards, then Werris and Captain came up behind up hooting and carrying on, and gave us a drag most of the rest of the way. This is the very good thing about tow guys — if there's just a couple of you paddling, they feel obliged to help out. Anyway, there we all were and we all got stuck in. Not really on the German itself but on another big patch of reef wide and further over, where the swell seemed focusing itself to best effect, clean-faced and draining a touch into mega-Sunset type peaks.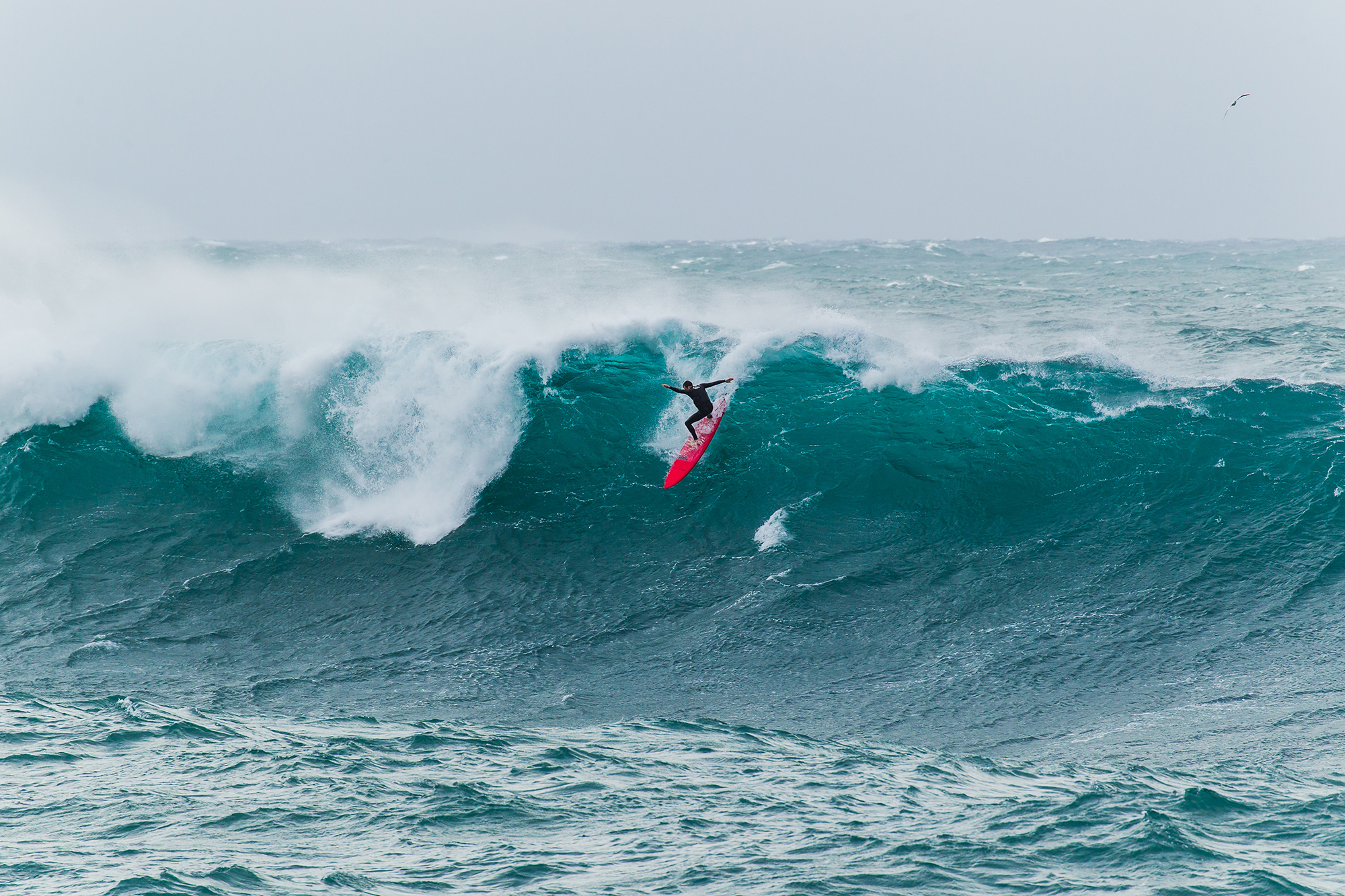 Another tow team were out, Narrabeen's Matt Dunsmore and a mate, and I reckon Matt got the best wave of the session, an awesome and quite thick 15-foot thing from deep on the reef. I got an excellent view of this wave since it completely caught me inside, along with every other wave in the set. I'd been a naughty boy and tried to shade the set. I'd over-frothed! I should know better, but it felt right to be belted by a big set, on the day the COVID daze was breaking too.
After a while a couple of other paddlers came out, one of them a small but strong-looking girl in a Gath helmet. This was Annie Dos Santos, 18, originally from Brazil, who moved here with her Mum a couple of years ago to further her education and surfing career. Annie is 18. She got a bomb! Don't let people tell you the big wave thing is macho. "It's so beautiful out here," she said, smiling her head off, and it was.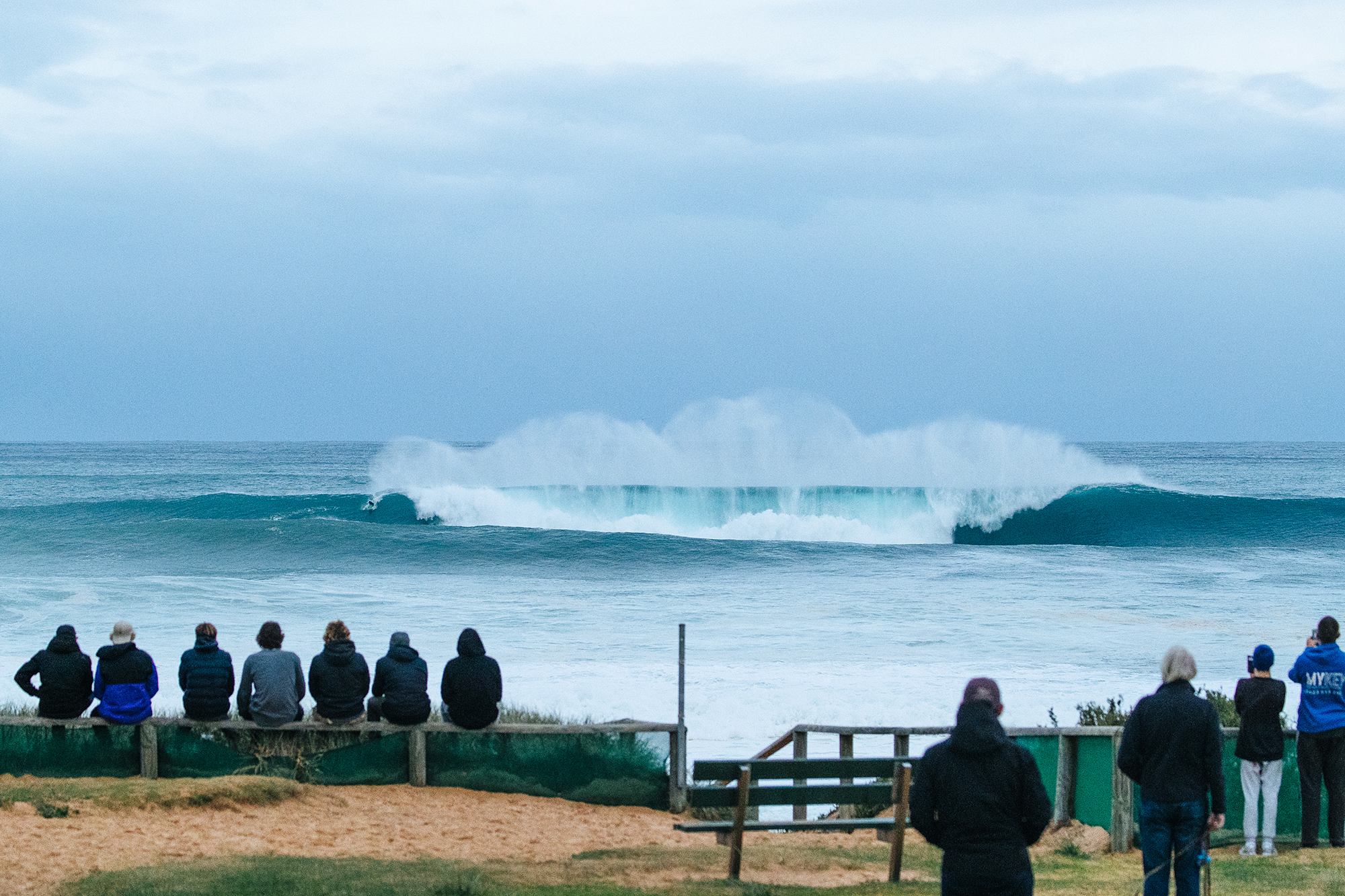 Next day was bigger but windier, Kelly went down to Deadman's in the arvo and blew some more minds. The day after that, Monday, it was a bit smaller but still there, and clean in the morning for a while. It seemed like everyone was beat, but stoked — gearing up for another round. And you know there's another swell coming. This time of year there always is.
Thousands of people would have watched some kind of surfing that weekend. Maybe they saw Kelly at Avalon, or Richie Vas at Wedding Cake, or the Northy crew, or the Cronulla crew, or the Merewether crew. People are always drawn to headlands and beaches in swells like this, just to watch the waves. Somehow, despite all that energy, the sight is restful to the eye.
There hasn't been a contest, or better phrased, an "event", for months. But surfing's coming out of lockdown in better shape than it went in. It's a lesson in what we need: a good board, some time, and a swell.
Surfline's Kevin Wallis explains: "While many zones on Australia's East Coast saw firing surf throughout the second half of May, things hadn't quite pulled together for Sydney until this past weekend. A small area of low pressure slid off the coast of New South Wales on Wednesday and intensified in the Tasman Sea into the weekend as it remained nearly stationary. Strong, mid-period south to south-southeast swell developed and quickly filled in on Friday, holding fairly steady over the weekend before easing by Monday the 25th. The path and location of the storm allowed for offshore southwest to west-southwest wind to develop for Friday afternoon and Saturday, grooming the large to XL swell into something more closely resembling Hawaii than what would normally expect in Sydney."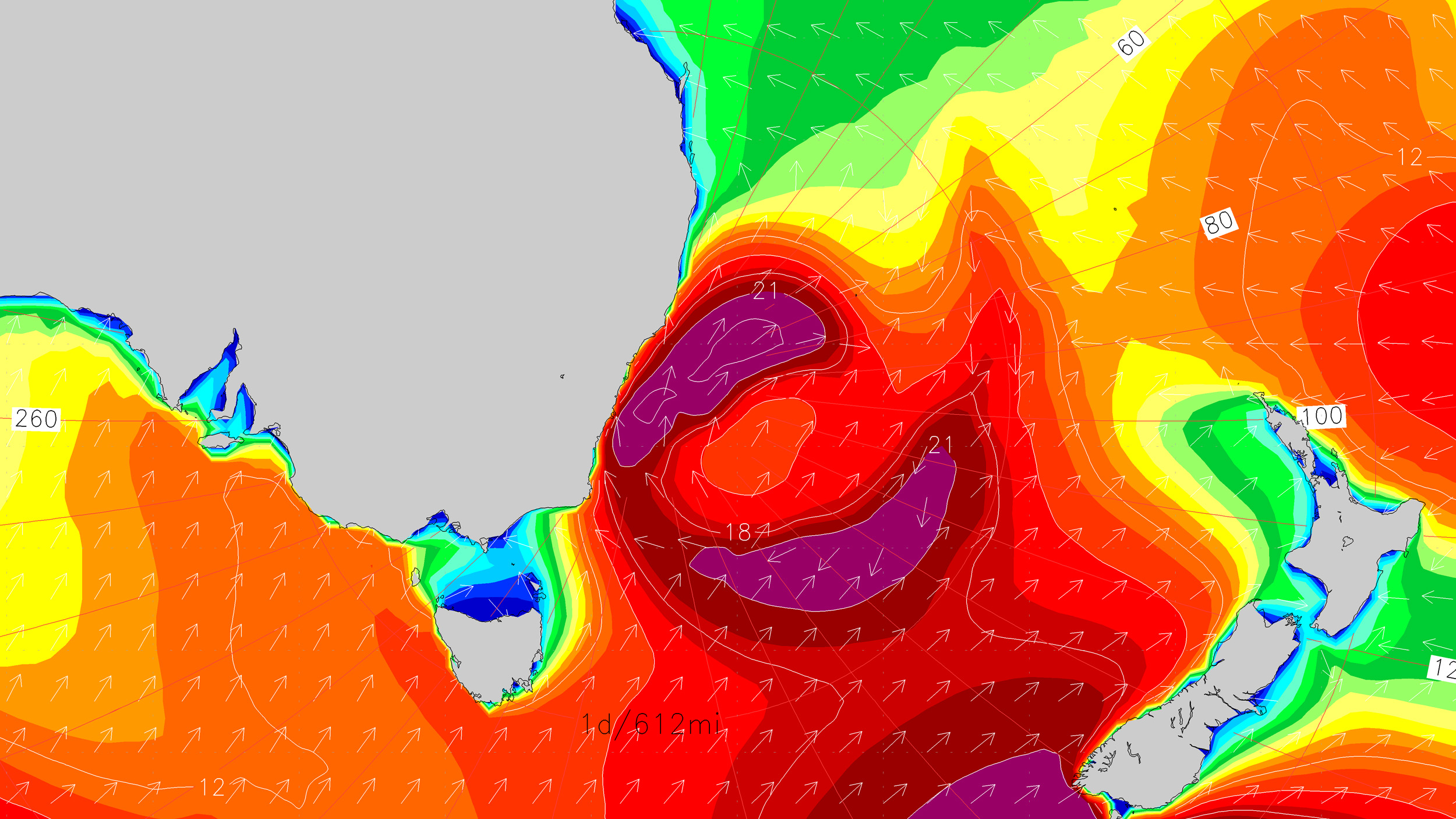 Swell Signature
Storm Location and Movement: Low pressure intensified in the Tasman Sea May 21st-23rd while remaining nearly stationary off the coast of New South Wales.
Storm Wind: Satellite confirmed wind of 30-40 knots, with a small pocket of wind to 50 knots.
Storm Seas: Modeled to be 20-25' just offshore of Sydney, although seas in excess of 30' likely occurred.
Swell Travel Time: one day.
Swell Height, Period and Direction: 13-15' at 12-14 seconds from the S to SSE (as recorded on the Sydney offshore Waverider Buoy).