While not renowned as a culinary destination, the Northern Territory offers plenty of adventures for foodies willing to try bush-tucker delights or deep dive into the tropical fruits and flavours of the Top End. For lovers of seafood, locally caught wild barramundi is plentiful, and is often cooked in native lemon myrtle or with chilli and ginger – a nod to the rich Aboriginal and Asian heritage of the region.
Here are my 10 unmissable food and wine experiences in the territory.
Parap village market, Darwin
A friend of mine is faithful to the rice ball dessert at the Cambodian Delights stall at Saturday's Parap village market, and when I finally had a taste, I understood why: the glutinous rice balls come swimming in a palm-sugar syrup spiced with ginger and are simply delectable.
In between caravans offering cheap eats, the market has stalls selling arts and crafts (including cane toad coin purses), fresh produce, plants, flowers, tarot readings and massage.
Of the market's many laksa stalls, the most famous is Mary's Laksa – just look for the one with the long line. Mary must run a tight ship as the queue for her noodle soup moves quickly and her hard-working troupe are all smiles. The consistency of the spicy, fragrant coconut milk soup is very good, hitting that sweet spot of not too thick and not too watery. The bowls come with pork, tofu, seafood and wontons, sprinkled with fried onion, coriander and sambal chilli paste for extra kick.
• Parap village market is at 3/3 Vickers Street, Parap, Darwin, 08 8942 0805. The market is on every Saturday from 8am till 2pm
Pee Wee's at the Point, Darwin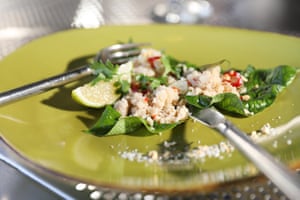 There's a reason Pee Wee's is a three-time winner of restaurant of the year at the annual NT Gold Plate awards: the restaurant's chefs draw inspiration from Darwin's multiculturalism and local produce, perfectly capturing the spirit of the city on a plate. All this at East Point Reserve away from the city's hustle and bustle, overlooking the turquoise waters of the Arafura Sea.
Sometimes the supporting act steals the show and that's the case with Pee Wee's entree menu – luckily there's the option to try it all with the "taste plate" ($42 for two people, $63 for three). The platter changes seasonally but may include the likes of crocodile wrapped in betel leaf, cooked with chilli, ginger, toasted peanuts, coconut and kaffir lime.
You can't visit the Top End without trying the region's most famous fish, barramundi. Pee Wee's serves up wild "barra" ($45) baked with macadamia nuts and lemon myrtle.
For dessert, the Belgian dark chocolate marquise is the wickedly named Fifty Shades of Chocolate ($19) and presents the conundrum of being both too beautiful to eat and too decadently sweet not to.
• Pee Wee's at the Point is at Lot 5775 Alec Fong Lim Drive, East Point Reserve, Darwin, 08 8981 6868
Rapid Creek market, Darwin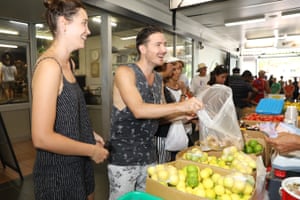 Darwin is a city of markets and the oldest is the Rapid Creek market, popular with locals on the hunt for Asian fruit and veg you won't find in the produce aisle of the supermarket giants. The run-down building at Rapid Creek could do with a revamp but inside it bursts with life. Asian granny hawkers cram their goods on to small tables lining the hallways while buyers sip coconut shakes from takeaway cups.
The range of exotic produce is boggling. Even if you're not planning on cooking, there are plenty of brightly coloured, tastebud-tingling fruits to try. Durian, starfruit, jackfruit, dragonfruit, mangosteen and rambutan are all served skinned, sliced and spiked with toothpicks, ready to eat. I won't forget my first taste of a sapodilla – the grainy-skinned brown fruit isn't much to look at, but inside its ultra-sweet flesh has a malty, caramel flavour. There are also lots of Asian desserts on offer such as the Filipino classic ampaw (puffed rice cooked with brown sugar), while food trucks out back sell lunch, including curries, noodles and rice paper rolls.
• Rapid Creek market is at 48 Trower Road, Millner, Darwin, 08 8948 4866. The market is every Sunday from 6.30am till 1pm and additional days depending on the season
Daly Waters pub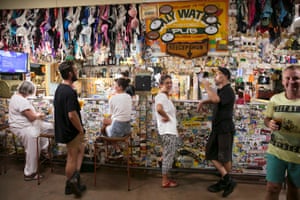 You'll find Daly Waters off the Stuart Highway, somewhere in the middle of an unending stretch of nowhere – or more specifically, 600km south of Darwin or 900km north of Alice Springs. Billed as the "original outback pub", this quaint watering hole is the ocker, outback boozer of our dreams.
According to the website, since its inception in 1930, the pub has "witnessed murders, shootouts in the main street, cattle stampeding through town and the odd drunken brawl". These days the clientele is more likely to be cheerful grey nomads and well-heeled Asian tourists than hard-drinking stockmen or truckies with their bums hanging out.
Still, the joint has plenty of personality. A rather odd tradition began when a coach driver bet his female passengers they couldn't beat him at a game of pool. Having lost the bet, the women had to hang their bras up on the wall of the pub. Thirty years later, there are still women leaving their bras behind along with other patrons who pin their briefs, name cards, banknotes, thongs (the footwear kind), baseball caps and footy shirts to what little room is left on the walls.
• Daly Waters Historic Pub is on Stuart Street, Daly Waters, with rooms available to stay, 08 8975-9927.
Karrke Tour, Kings Canyon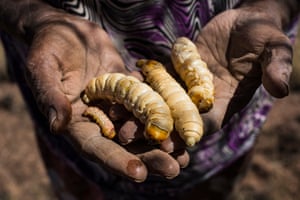 Through urbanite eyes, the desert might look barren, but in fact it's a storehouse of food that the Arrernte, Luritja and other nation groups in central Australia have been living off for tens of thousands of years.
Not far from Kings Canyon is the Karrke Aboriginal tour, a small, family-owned business run by Arrernte man Peter Abbott and his wife, Christine Breaden, a Luritja traditional owner of the Wanmarra lands. Together they take tourists on an hour-long tour of the region's bush foods, medicines and other cultural knowledge.
Among the bush tucker, you'll encounter a quandong – a fruit with tart, edible flesh (the wrinkled seed is used in jewellery making) – the kutjera or desert raisin that will give you a bellyache if you eat too much, the cottony sugar bag left on a gum leaf by the lerp insect, and a bush plum soaked in water to make a sweet drink. The guides don't recommend tasting, and it is only done at your own risk.
I took the tour during the dead of winter, prime time for digging up witchetty grubs, known as "maku" in Luritja. After being raked over the coals, they are eaten like a prawn, biting into the wriggling body and throwing away the head. I found the high-protein snack surprisingly delicious, with both the taste and texture of hot, runny, fried egg.
• Karrke Aboriginal Cultural Tour is next to Kings Creek Station, off the Lasseter Highway, Kings Canyon, 08 8956 7620. Adults $65, children 12 years and over $45, children 6 to 11 years $10
Marksie's Stockman's Camp Tucker Night, Katherine
There's nothing like eating by a gentle campfire under the stars and hearing the soft patter of wallabies in the dark. Your host for the evening, Marksie, picked up his bush skills from his father, as well as his rabbit-trapper grandfather and bush-cook grandmother. The family ate little else but rabbit: fried, fricasseed, roasted, potted, steamed and cooked over coals on a shovel.
The current menu has a lot more variety, including entrees of crocodile and beef sausage rolls with a bush tomato seasoning and desert quandong sauce, and wild barramundi cooked in lemon myrtle and rainforest spice and served with a mango salsa. For mains, a roast might include lamb, beef or pork, cooked in both Indigenous and Chinese spices – a celebration of the region's multicultural heritage.
Marksie says he sometimes "goes bush" with some of the local Aboriginal women to learn more about the 14 native ingredients used in his cooking, which includes pepper berry, forest berry, native mint and aniseed myrtle.
Be sure to leave room for the damper, which is cooked with roasted wattleseed to give it a slightly nutty taste, and if you're lucky, a camp oven pavlova.
• Marksie's Stockman's Camp Tucker Night is at Top Didj Cultural Experience on Gorge Road, Katherine, 0427 112 806. Adults $75, children under 14 years $35
Field of Light, Voyages Ayers Rock Resort, Uluru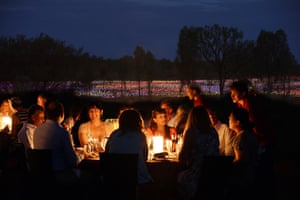 You'll be hard-pressed to find a more spectacular dinner and show than A Night at Field of Light. Australia's most famous big rock takes centre stage and, as the light in the sky dims, you'll nibble on canapes (think paperbark-smoked crocodile frittata and poached prawn with native finger lime) and sip chilled sparkling wine. By the time Uluru becomes nothing but a silhouette, 50,000 frosted-glass spheres elevated on stems will begin to glow, an acclaimed work by the British light-installation artist Bruce Munro.
There's plenty more bush tucker-inspired choices among the main course options, including dukkha-seared kangaroo loin on quandong couscous with native mint yoghurt, and bush tomato and garlic roasted chicken breast on spinach with crumbled Persian feta. You'll be serenaded by a lone didgeridoo player, making it one of the most romantic experiences the NT has to offer.
• Field of Light is booked through Voyages Ayers Rock Resort, Uluru, 02 8296 8010 or 1300 134 044. Prices start from $235 for adults and $117.50 for children. Early booking is recommended
Hanuman, Darwin and Alice Springs
I'm sceptical about pan-Asian restaurants – so often the quality of the food proves inversely proportionate to the size of the cuisine's footprint. Hanuman, however, is a happy exception. Perhaps it's because the decorated Australian restaurateur and chef Jimmy Shu is committed to excelling at all three of Hanuman's three styles of cooking (Indian, Thai and "Nonya" – a pan-Asian cuisine mixing Chinese, Malay and Indonesian influences) by bringing in chefs from India, Sri Lanka, Indonesia, Malaysia and Thailand.
Hanuman in Darwin has been around for more than 25 years, but it was the Alice Springs branch that finally took the top gong at NT's 2016 Golden Plate awards, winning restaurant of the year. The menu isn't particularly innovative, preferring to present classic dishes such as green chicken curry ($24.50), pork belly ($24) and beef vindaloo ($25) – but with far much more flair than your local shopping centre food court.
• Hanuman Darwin is at 93 Mitchell Street, Darwin, 08 8941 3500. Hanuman Alice Springs is at the Hilton Doubletree Hotel at 82 Barrett Drive, Alice Springs, 08 8953 7188
Page 27, Alice Springs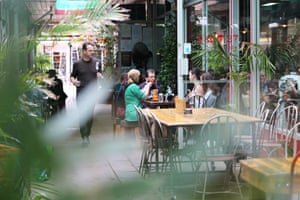 I'm more of a tea drinker but locals swear by the coffee at Page 27, tucked down the Fan Arcade, off busy Todd Mall in Alice Springs. The hodgepodge of secondhand furniture, local art and packing crate feature walls make for a funky, rustic vibe, while the simple, fresh food should satisfy any salad-eating hipster. When the scorching central desert summer wraps around Alice like a bear hug, the indoor air-conditioning makes for a cool reprieve.
Vegetarians are well catered for here with an excellent breakfast featuring halloumi, mushrooms served fried and juicy, spinach, roasted tomato, poached eggs and the compulsory smashed avo on sourdough toast ($17.90). If you prefer bacon in your breakfast, the eggs benedict is also decent. For lunch, there are sandwiches, salads and a pasta of the day on offer, along with a pretty good quesadilla with chicken, spinach, refried beans, capsicum and cheese ($14.90).
• Page 27 is at 3 Fan Arcade, Alice Springs, 08 8952 0191
Monte's Lounge, Alice Springs
Not your average country pub, this boho, circus-themed drinking establishment is crowded every Friday night with locals. Beer drinkers will be happy to see Little Creatures, White Rabbit and Hills Cider on tap, and there's a better-than-average wine list too.
It's not surprising to see pizza ($15 to $20) and burgers ($12 to $15) on the menu, but Monte's does pub fare with style, offering burgers with teriyaki chicken, pineapple salsa and pickled cucumber, and a roasted pumpkin pizza with sun-dried tomato, rocket and pine nuts.
If that doesn't take your fancy, there are Mediterranean-style share plates and a ploughman's platter with camembert, cheddar, smoked ham, salami, prosciutto and bread. Do not miss the beer-battered fries – they're chunky and crunchy and you'll be ordering a second round for the table before you know it. The place is also family-friendly; I saw plenty of kids with their trendy parents, mixing with the Alice Springs under-30s set.
• Monte's Lounge is on the corner of Todd Street and Stott Terrace, Alice Springs, 08 8952 4336