When I hear my gin tasting day is to start before lunchtime, I feel a little queasy.
Spending the day tasting wine is one thing. To contemplate how I'll be after a day of shots, drams, gin and tonics and martinis doesn't bear thinking about.
Yet gin tasting – and the gin distilling industry itself – is having a moment, particularly in South Australia. Among the vineyards, orchards and small farms outside Adelaide, there are a growing number of spirit distilleries that are putting a new spin on the classic, by infusing the product with native ingredients.
South Australia's small batch scene really kicked off in 2007 with the establishment of Kangaroo Island Spirits. Set up by Jon Lark (of Tasmania's Lark whiskey fame), the small label has a distillery on Kangaroo Island, making gin, vodka and liqueurs.
Only a decade later, the Adelaide Hills Distillery took out the top prize for best international gin at the American Distilling Institute awards for their 78 Degrees gin – beating gins made in more mature markets such as the UK.
And so – fortified by a big breakfast – we set off just after 9am into the Adelaide Hills to visit some of the new distilleries.
Applewood Distillery
Our first port of call is the Applewood Distillery, located in an old apple store in Gumeracha in the Adelaide Hills.
He may only be 26, but Brendan Carter is something of an old hand at gin-making – he's been distilling for five years, and started Applewood more than 18 months ago with his wife, Laura.
The native Queenslander was attracted to the wealth of native ingredients in the Adelaide Hills. The process of gin-making is relatively straightforward, with one pass of a neutral spirit through a gin still. It is what's added that give the gin its unique taste. Traditionally botanicals like juniper are added, but instead Carter adds indigenous ingredients. "You've got to work with what you have around you," he says. For example, he uses saltbush instead of rosemary to flavour his gin. Not only is the saltbush grown locally, it needs less water to flourish, he explains.
The saltbush is used in Applewood's popular salt and sake gin, which "is very saliney and very estuary," explains Carter. The result is a very different type of gin to a typical pub gin and tonic.
My first taste of gin straight from the stills (at around 11am) is a shock to the system. As I dip a finger in the glass to taste it, the fumes hit me. It's the sort of drink that could kill a horse. The raw product is fairly horrific – 70–80% pure alcohol and Carter is yet to add the botanicals.
Carter reels off the produce he uses to make his gins: peppermint gum leaf, blood limes, finger limes, desert limes, sunrise limes, Kakadu plums, myrtle, cinnamon, apple plums, wild thyme and mountain pepper.
Some gins are more experimental than others, including a Thai gin with chilli, tamarind, and kaffir limes that are distilled with coconut water.
"We're just starting to make good Aussie gin," says Carter of the current boom. "We're not even trying to emulate dry London gin, especially with all the native ingredients. We have between 40 to 60 native ingredients to choose from that we use."
The label's most recent success is green ant gin, made using local insects. "We get a nest that's live, then put them in the freezer. The ants are then bathed in gin. What a way to go!"
At $120 a bottle, the batch had sold out but for one bottle, which Carter opens at the time of our visit. It has a subtle lime and coriander flavour, and a slightly green taint – like absinthe.
Gin tastings follow a similar format to wine tasting: we're not glugging down full glasses. Instead we taste the gin in small measures either straight or mixed with posh tonic water. These are accompanied by snacks such as frozen berries, finger limes and bush tomatoes.
The Carters live onsite – in a tiny house that friends helped them put together one weekend – and their distillery is not so much a business as part of their lives.
The enterprising pair imported their still in 2012, which allows them to manufacture gin year round – including for other labels. They also run a winery and make wine under the label Unico Zelo. When we visit, they are in the process of setting up a cellar door, as well as making lemoncello from produce that local farmers didn't sell at the market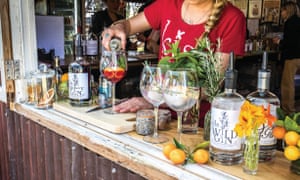 The Red Hen distillery
New producers aren't just out in the bush backblocks. In Adelaide CBD, down a back lane, there is a curious shed next to a flower shop. The Red Hen distillery is 17 square metres inside and houses an imported still that makes London dry-style gin.
The distillery is a labor of love for four Adelaide men – brothers Michael, Daniel and Anthony Vallelonga and their friend Luke Page – who grew up in the Adelaide suburb of Gawler. The gin is named after the red hen railcars that ferried the boys to school 20 years ago.
After they purchased the still and the license, they used trial and error to perfect their gin recipe. Each Wednesday night the men would meet (they all have day jobs) at the shed and process, infuse and bottle the gin.
It took two years and 30 testing batches to get the taste right. That's a lot of bad martinis drunk in the shed, but at least they were among friends.
At a tasting of the current batch, it's clear that the Red Hen guys have found the ideal mix. The gin is distilled in small batches of 100 (each bottle is numbered) using a copper column still, which infuses the alcohol with hand-picked botanicals.
They are onto a winner. In April, Red Hen gin won Australia's best small batch gin at the Australian Distilled Spirits awards.
The men are mad about martinis – preferring theirs dirty and made with three parts gin, one part vermouth. They recommend we visit the small Adelaide bar Hains & Co, which stocks Red Hen gin as well as other locally produced spirits – and also carries a good range of bespoke tonic waters.
Marcus Motteram, who runs Hains & Co, is passionate about the long and interesting history of gin – and is excited about the current crop of gin makers.
He mixes us a Red Hen gin and tonic garnished with a sprig of rosemary. It's 5pm on a warm Friday evening. Just the right time for gin.
Looking for experiences in Australia? Find discount codes for Red Balloon by visiting discountcode.theguardian.com/au