Disappointment turns to anger after Byron Bay Bluesfest axed
Jeanette Lamb, a graphic designer from Sydney's Greenwich, was expecting to stay in Byron until Wednesday to attend Bluesfest, but cut short her holidays to return to Sydney on Saturday.
"We decided to go home today which meant we lost all our accommodation money, but we'd rather go home and work than sit here killing time," Ms Lamb said before heading back to Ballina airport.
She and two friends booked and paid for a trip to last year's Bluesfest, the credits for which they were planning to use this year. They arrived Wednesday and the festival was cancelled that night.
"It's so disappointing for the live music scene, we are just devastated for the musos, we were hoping some from the Melbourne Ska Orchestra would still come and we could see some live music around town, but none of the big name artists have come," Ms Lamb said.
Popular cafes such as Treehouse on the Belongil were closed because of the lack of tourists in town. Restaurants such as Miss Margarita's the Mexican cantina in the heart of normally bustling Byron, where crowds often queue down the street to get in, were closed to safeguard staff from potential coronavirus infections.
Instead of the all-Australian acts such as Weddings Parties Anything, the Black Sorrows and The Church, who were due to perform on stage at the Tyagerah-based Bluesfest stages just outside of Byron, a handful of buskers performed on the streets and beachfront to much reduced crowds.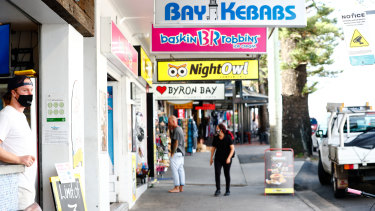 One locally acquired case was detected in Byron Bay and announced on Wednesday – a man in his 20s who visited the Beach Hotel and sat in close proximity to a bachelorette party attended by two Queenslanders who were unknowingly infectious.
Since then, no new locally acquired cases have been detected anywhere in NSW, including Byron.
Byron Shire mayor Simon Richardson said while many locals were disappointed Bluesfest didn't go ahead, the vast majority felt it was better to be safe than sorry.
Loading
"It was a King Solomon's choice … most people would rather we over-reacted than under-reacted," he said. "The last thing we wanted was a coastal Ruby Princess on our hands."
Accommodation providers such as Flash Camp, the on-site pop-up hotel at Bluesfest, which had assembled glamping tents for the expected 70 guests from as far away as Western Australia, had to stand down staff before they packed up tents.
"We had a 74-year-old man with osteoarthritis coming from Melbourne we had to turn away and we had to stand down our staff some before they had started work," said Flash Camp's Lisa Stratt.
"I am worried about our staff now as they can't even get JobKeeper anymore and because of our COVID unemployment crisis we have an accommodation crisis too … some of our staff are living in their vans. This is devastating on many levels."
Get our Coronavirus Update newsletter
Stay across the news you need to know related to the pandemic. Sent Monday and Thursday. Sign up here.
Helen Pitt is a journalist at the The Sydney Morning Herald.